The boisterous Mid-Autumn Festival 2015 of Sunrise Media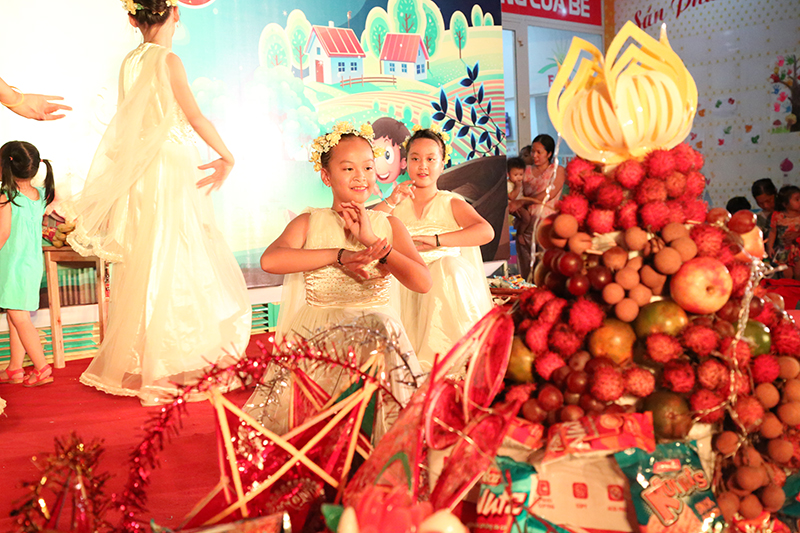 Celebrating a Vietnamese tradition, Sunrise Media Joint-stock Company organized annual Mid Autumn Festival on September 24, 2015 (the 12th day of August, lunar calendar) for employees' children. The festival was held outside Hancorp tower on Tran Dang Ninh street, Cau Giay district, Hanoi, which attracted more than 400 people including employees' family and the inhabitants of Hancorp Plaza Building.
With many interesting performances such as singing, dancing, prestidigitation and circus from Hoa Mi children club and Vietnam Central Circus, the festival created an atmosphere of joy and tradition for everyone. The children particularly enjoyed unicorn dances and lantern parade.
Many children took part in the festival
The festival is an annual activities of Sunrise Media Joint-stock Company on Mid-Autumn. The Organizing Committee wanted to create a pleasant family atmosphere for the children through fun outdoor activities, which communicated the love and sense of preserving cultural uniqueness to them. In addition, the activity showed special regard of the Board of Directors to the spiritual and physical life of the staff.
Some precious moments of Mid-Autumn festival:
Excitement when one unicorn approached
Different facial expressions with the sound of lively music
Patiently waiting for colorful balloons.
Happiness with receiving things
Some interesting performances
A professional performance by the kids
Fascinating circus
Deep concentration on performances in the stage
Cute smile of a "little angel"
The soul of the festival is Mr. Cuoi and Ms. Hang Nga (two characters in a Vietnamese
Cùng nhau chơi trò bịt mắt đập bóng đầy thú vị.
An excited kid in the blindfold game
Making up for their parents.
"You have so little hair, Dad. But I can do it"
Cake and candy party at the end of the festival – the most anticipated part
MD