Team-building 20 Oct: Proud to be women Sunrise Media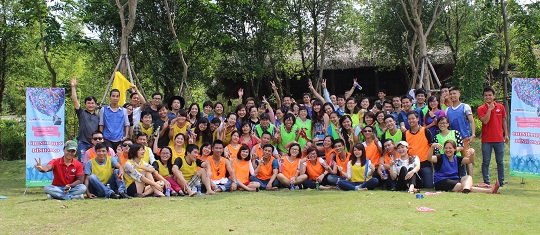 In welcoming Vietnamese Women's Day, many outdoor team-building activities was held, at Ecopark urban area on 20 Oct 2014, with the participation of officials and staff of Sunrise Media JSC for the purpose of "winning" as many smiles of the beauties as possible.
The program was organized by the Labor Union, under the leadership's direction, in order to honor women - who have been contributing to the success of Sunrise Media, and to provide a healthy playground for all members in the company.
In the wonderful weather of autumn with an open and fresh environment, all Sunrisers immersed themselves in exciting game shows and activities such as tug of war, catching the balls, etc., leaving behind the city's oppressiveness and the anxieties in life. The company was divided into 4 teams with 4 different colors, styles and characteristics. The only thing they shared was the determination to win, making it an unforgettable trip.
Although the games required skills, experience and solidarity and seemed to be thrilling, the teams played their best high-spiritedly and enthusiastically.
Orange Team - "small but smart"
Green Team with the slogan "Come to love"
Blue Team
The mighty Yellow Team
Eventually, the "small but smart" Orange Team became the undisputed champion with a remarkably higher score.
It was the smiles, big rounds of applause and excitement that tightened solidarity among Sunrisers.
Orange Team – The champion
The program, as it was supposed to be in the first place, had created a happy and awesome atmosphere for members of Sunrise Media on the Vietnamese Women's Day - 20 Oct, and it would be a memorable experience of every single Sunriser.