FC HCNS decisively wins at Sunrise Media Cup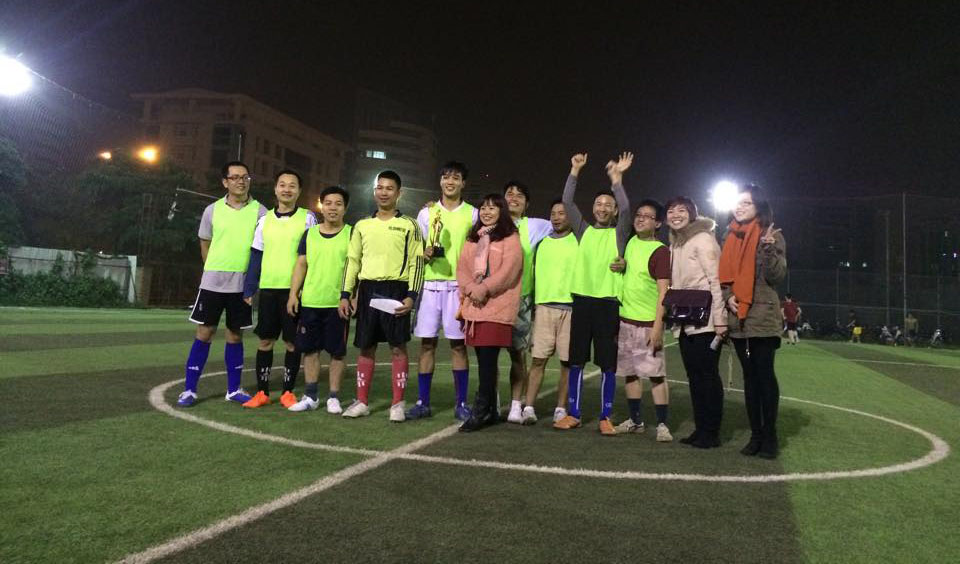 The football cup was held in FPT Mini Stadium on 8 January 2015 to mark the arrival of the Lunar New Year.
The tournament saw three strong teams from the Administration Department (FC HCNS), Film Editing Department (FC Ky Thuat), and Artists' Department (FC Hoa Sy) play a round robin format to determine the winner.
The game took place in the spirit of fair play; the players played beautifully and dedicated to the audience breathless moments of awe and joy. Three matches with 18 goals were indeed a feast for the eyes.
FC HCNS - the champion
FC Ky Thuat won the second prize
The last match between FC HCNS and FC Ky Thuat was also the final one. Both teams seemed to know one another well though they have never competed. The 0-0 draw remained until two third of the match until forward Nguyen Quoc Huy of FC HCNS netted the first goal. Cheers erupted in the audience. FC HCNS continued their scoring spree as captain Tran Quang Kien shot from side into the opponent's net ten minutes later. With a 2-0 lead, FC HCNS was on to what seemed to be a convincing win.
The remaining match saw tireless rise of FC Ky Thuat but forward Nguyen Manh Dang's single goal did not create a magic. The FC HCNS exploded in winning cheers as the referee blew his whistle.
Sunrise Media Cup
FC Hoa sy won the third prize
The champion team
FC HCNS captain Tran Quang Kien
.
Though it took place in only one day, the tournament has showed off the players' skills, the professionalism of the cup, and sportsmanship of the playing team. It also strengthens bonds and solidarity among the company's departments and staff members.
PV