Sunrise Media's pilgrimage to Yen Tu in spring 2015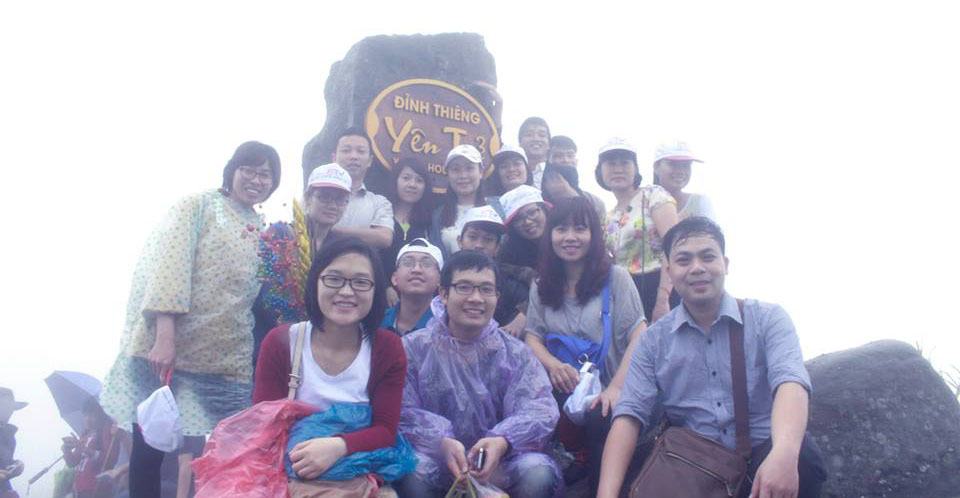 It has been a long-lasted custom of the Vietnamese people to visit pagodas and temples in the first days of the lunar New Year to pray for a felicitous year, and Sunrise Media is no exception. As the spring season of the Goat Year got underway, the company organized for its staff a pilgrimage to Yen Tu Sacred Mountain in Uong Bi, Quang Ninh province, beseeching for peace and prosperity. The trip to Buddhist holy land started at 3.00 am on 28 February but everyone was up and eager to go. This made the 100km long journey seem shorten.
As soon as they set their food on Yen Tu Mountain, people felt like getting lost in heaven with far-flung ranges of deep-blue wavy mountains shrouded by ragged clouds. The rhythmic sound of pagoda bells and chants in the spring morning together with the fragrant smoke of burning incense created a placid and relaxed atmosphere that takes people away from the hustle and bustle of life. Undoubtedly, going to pagodas and temple in early spring does not only allow people to satisfy their spiritual thirst, but also provides an opportunity to enjoy the spectacular mountain scenery.
Yen Tu Mountain from above
The Sunrise Media's team stopped and made floral offerings at each of the sacred site of Yen Tu complex to bear witness to their Buddhist faith and receive blessings. They pray comfort for themselves and their family and pray prosperity for Sunrise Media. The same spiritual aspirations seem to bring the company's team closer together.
Sunrise Media group photo on the top of Yen Tu Mountain
Going to pagodas in early spring has become a beautiful cultural tradition of Vietnamese people in general and Sunrise Media team in particular. It helps them to clear their mind, refuel their soul, and prepare them for more productive and successful year.