Bustling atmosphere of Tet Holiday in "New Year's Gala 2015"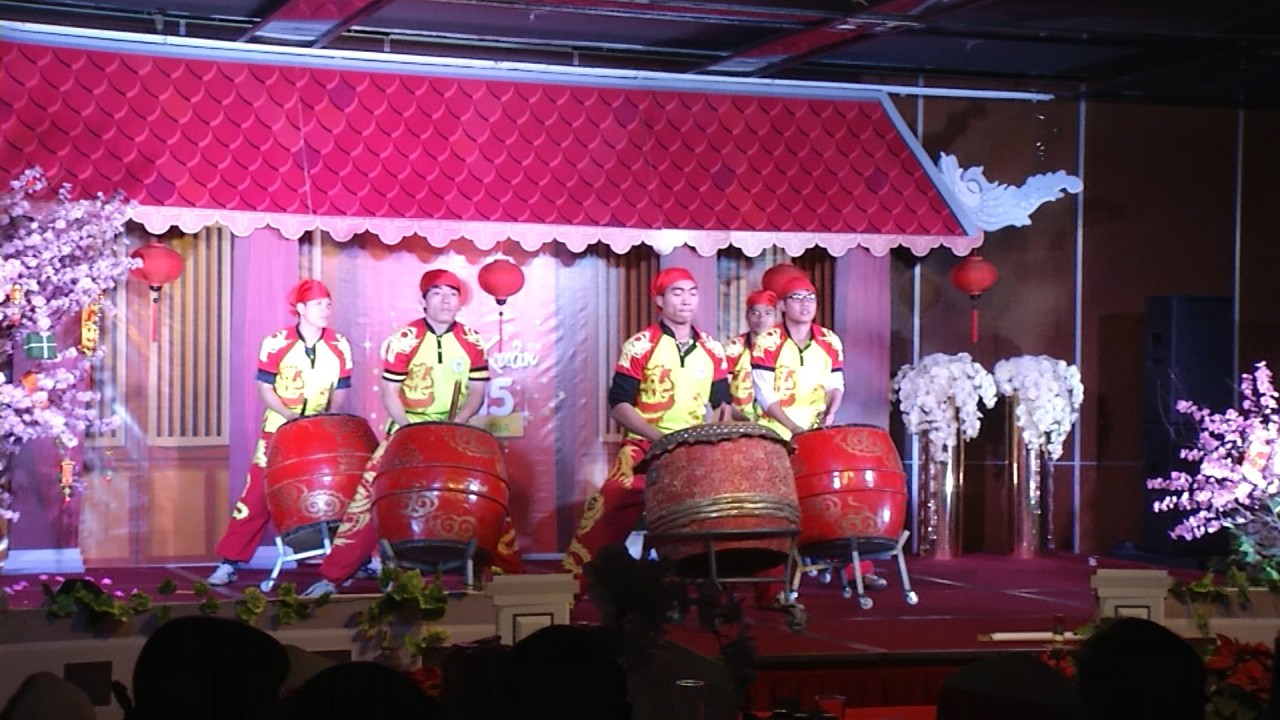 In the bustling atmosphere of welcoming the new year of Ất Mùi (Wood Goat), on 12 February 2015, Sunrise Media JSC (Sunrise Media) held a cozy and interesting Year-end Overview celebration called "New Year's Gala 2015" at the senior conference and event centre - Trống Đồng Palace.
All the staff of Sunrise Media warmly welcome the upcoming year
The celebreation, with the presence of leaders, distinguished guests, partners, collaborators and all the staff of the company, was carefully and thoroughly held and had brought a lot of emotions as well as beautiful memories to the attendees.
Ms. Do Thi Thanh Huong and Ms. Nguyen Thi Phuong Loan
- company directors (from left to right) at the Gala
Heroic drum performance at the beginning of the gala
After the epic opening drum performance, lion dance and spring greeting songs, on behalf of the company leaders, Ms. Nguyen Thi Phuong Loan - General Director, sent best wishes for new year and expressed her sincere thanks for the presence of distinguished guests and all the employees of the company.
Speaking at the ceremony, she affirmed that 2014 was a challenging year for the television industry when fiercely competing with the Internet. However, thanks to the proper management of the leadership and the tireless efforts of all the staff, Sunrise Media has kept moving forward when the products of the company are becoming popular shows on the TV channels such as VTV3, VTV1, HTV9, Vinh Long TV, Khanh Hoa TV, etc; airport advertising sector still keeps its dominant position; and the company has been broadening relationship with major partners. In the upcoming year, Sunrise Media will keep developing its current fields, and even encroach upon another potential market - TV Dramas.
The speech of Ms. Nguyen Thi Phuong Loan – General Director of Sunrise Media
The most expected part of the Gala was the "Sunrise's got talent" competition as all performances were meticulously prepared with several months of practicing. This was really a advantageous playground for Sunrisers to show off their talent as well as to entertain after hard-working days.
Modern dance - by storyboard artists
Charming dances of the ladies in Editorial Department
Game show with a lot of fun and surprises to everyone
Also in "New Year's Gala 2015", the company leadership also honored and awarded to individuals, groups with excellent achievements in 2014.
At the end of the "New Year's Gala 2015" was the New Year's Eve party, when people toasted each other with joy and success in the next year in the throbbing music, laughs and joyful dances. All people were waiting for a new year with good health and happiness. The event has created a cozy atmosphere and unforgettable impression for all members of Sunrise Media.
PV