International Children's Day festival at Sunrise Media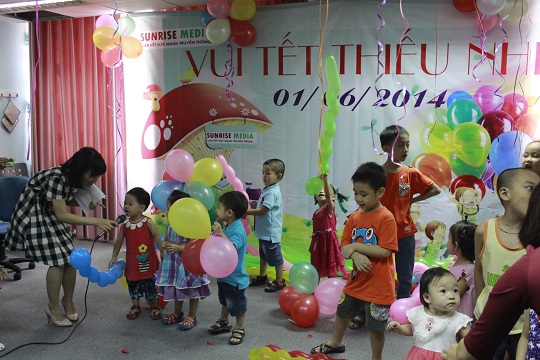 Sunrise Media held a ceremony for all its employees' youngsters to celebrate the International Children's Day at the company's studio on 1 June, 2014.
Director Nguyen Thi Phuong Loan and Director Do Thi Thanh Huong also took time off their busy schedule to be part of the ceremony.
Although the ceremony was scheduled to open at 9.00 am, by 8.30 am, the studio was already brimming with the vibrant presence of nearly 100 exciting young guests.
Director Nguyen Thi Phuong Loan delivered the opening speech on behalf of the entire company. She sent her best wishes to the little ones, hoping they will have a meaningful and enjoyable summer holiday and will always do well at home and school so that their parents feel secure as they leave for work each day.
The young guests
Besides the gifts for all the young guests, the ceremony organizers also presented special commendations and awards to distinguished school girls and boys with excellent academic performance during the year.
The following music shows, quizzes, and games made the atmosphere even more boisterous and encouraged the most timid ones overcome their shyness and got more involved. As they enthusiastically joined in on the activities, the kids had a truly joyous celebration of their Childrend's Day.
The ceremony ended in laughter, joy and a little regret from the youngsters who cannot wait for the celebration next year.
Sunrise Media's International Children's Day festival is an annual activity that carries deep humane meaning – children are our future and we should teach and take really good care of them.
The festival is also a chance to bring Sunrise Media's members together and give them more motivation.