International Children Day in Sunrise Media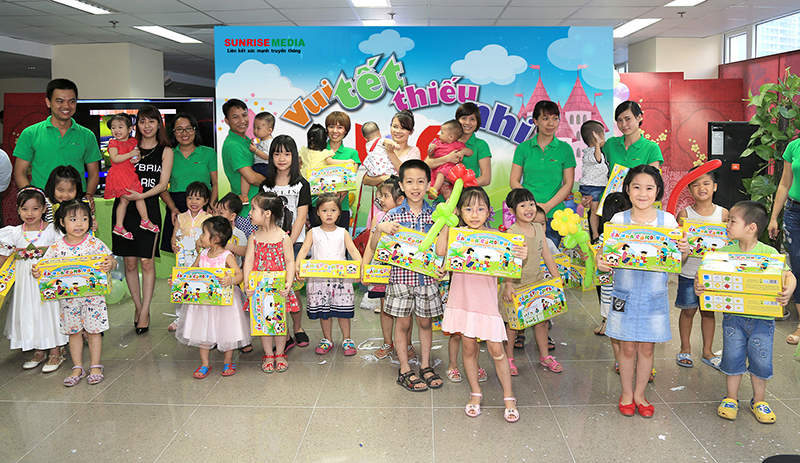 On 31st of May, 2016, Labor Union of Sunrise Media Joint stock Company ( SUNRISE MEDIA) organized" Children Day's" to all staffs children at Head office ( Hancrop Buidling, 72 Tran Dang Ninh Street, Cau Giay District, Hanoi )
The event was organized on Children Day in the aim of gather all staffs children, create joyful atmosphere after a long school year and start a happy and memorial summer.
Movement team from Labor Union planned for this event one month before. Sunrise Media office turned into children festival in that day with funny image, colorful balloon and cheerful music. Attendants felt happy, adults in particular thought like be back in childhood.
The children are enjoying the colorfull baloons around them
Visiting parents office, children were happy and curious as coming to new world. Breaking first strange moments, they actively participate on many games such as : Fashion contest, singing contest, funny questions with gifts. Especially, it was the first time they could watch the artists turning the simple balloons into many beautiful object like puppies, lovely bear, colorful flowers; watch attentively the magician performing with their admiring eyes.
The baby is watching the contest attentively
Wow, the magician is fantastic
Attending International Children Day Celebration, the children had chance to meeting others at their age. The staff at SUNRISE MEDIA also had chance to talk and play with their children; the stories were about not only the job but also sharing the joy, the happiness and worry when being a mother, a father.
The Director gives present to Minh Duy- the first prize in " the moment of your children" contest.
On this occasion, the Labor Union of the Sunrise Media also commended and rewarded the children having good result in the previous school year with the purpose encouraging them to learn better in the next school year.
The children and their parent recieve gifts from Director.
It's great chance comming to parents's house on this day.
International Children Day Celebration is one of the annual activities beside the " Mid moon celebration" for the children at Sunrise Media. These events show the concern of the Directors to their staff's children; besides, they also show the duty of the two company to the developing the children.
MD
MD