Team buiding sunrisemedia 2015 – colours of success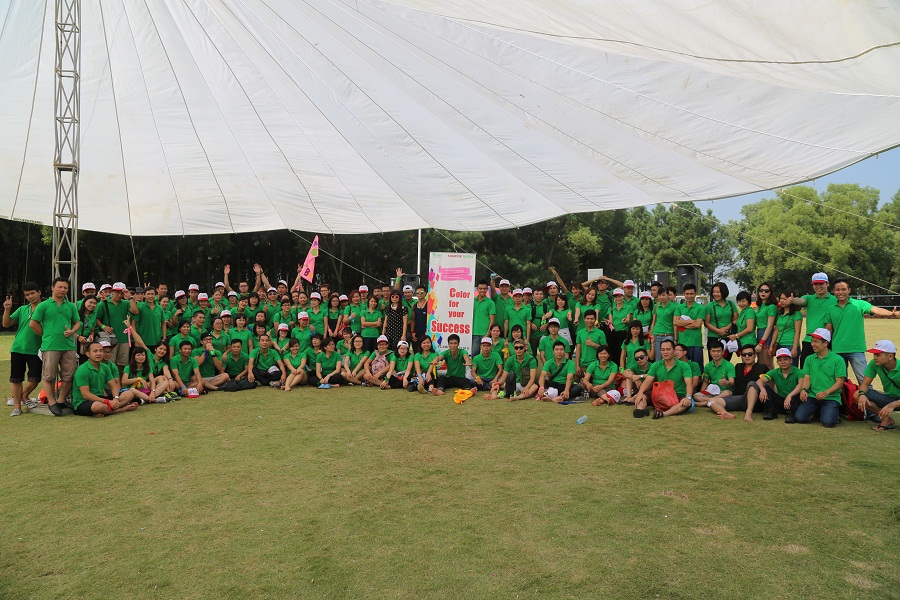 A recreational team building activity was held for Sunrise Media Joint-stock Company's staff by the company's Human Resources & Administrative Department and the Labour Union on September 24th, 2015 in Dai Lai Flamingo Resort, Phuc Yen district, Vinh Phuc province to celebrate Vietnam Women's Day.
Team building is one of the most anticipated activities of the company's staff members in the whole year. This year's activity with the theme of "The Colour of Your Success" gave staff members the happiest moments, which draw them as close to one another as family members.
Nearly 200 staff members, regardless of their departments, were divided into 8 teams facing many challenges such as kicking the ball, pouring water in a pipe and kayaking. All games took place in a dynamic atmosphere, solidarity and tremendous excitement.
Kicking the ball in a blindfold game
Pouring water into a pipe
Victory came to town
Kayaking to spot the secret words
And the Joy of solidarity
And the Joy of solidarity
A Gala took place after lunch in Flamingo Restaurant, which was the combination of gameshow and dancing. All funny and sexy performances of departments were greeted by hearty cheers of the audiences and some received compliments of the judges. In this occasion, the Organizing Committee also awarded the winner of Nice Office Competition.
The First Prize went to StoryBoarding team
They were given the maximum score
The Second Prize went to Human Resources & Administrative Department
The Third Prize went to In-betweens Department
The gameshow, lyrical songs by the staff members as well as the Nice Office Award in the Gala drew all the members closer to each other.
The team building activity of the staff members was indeed a meaningful activity which showed special regard of the leaders of Sunrise Media to the spiritual and physical life of the staff in overall and female staff in particular.
The activity brought resourceful women of Sunrise Media interesting recreational moments and gave special thanks to them for making significant contribution in the development of Sunrise Media.
MD