A Large Number of Visitors Came to Sunrise Media's Booth at Telefilm 2016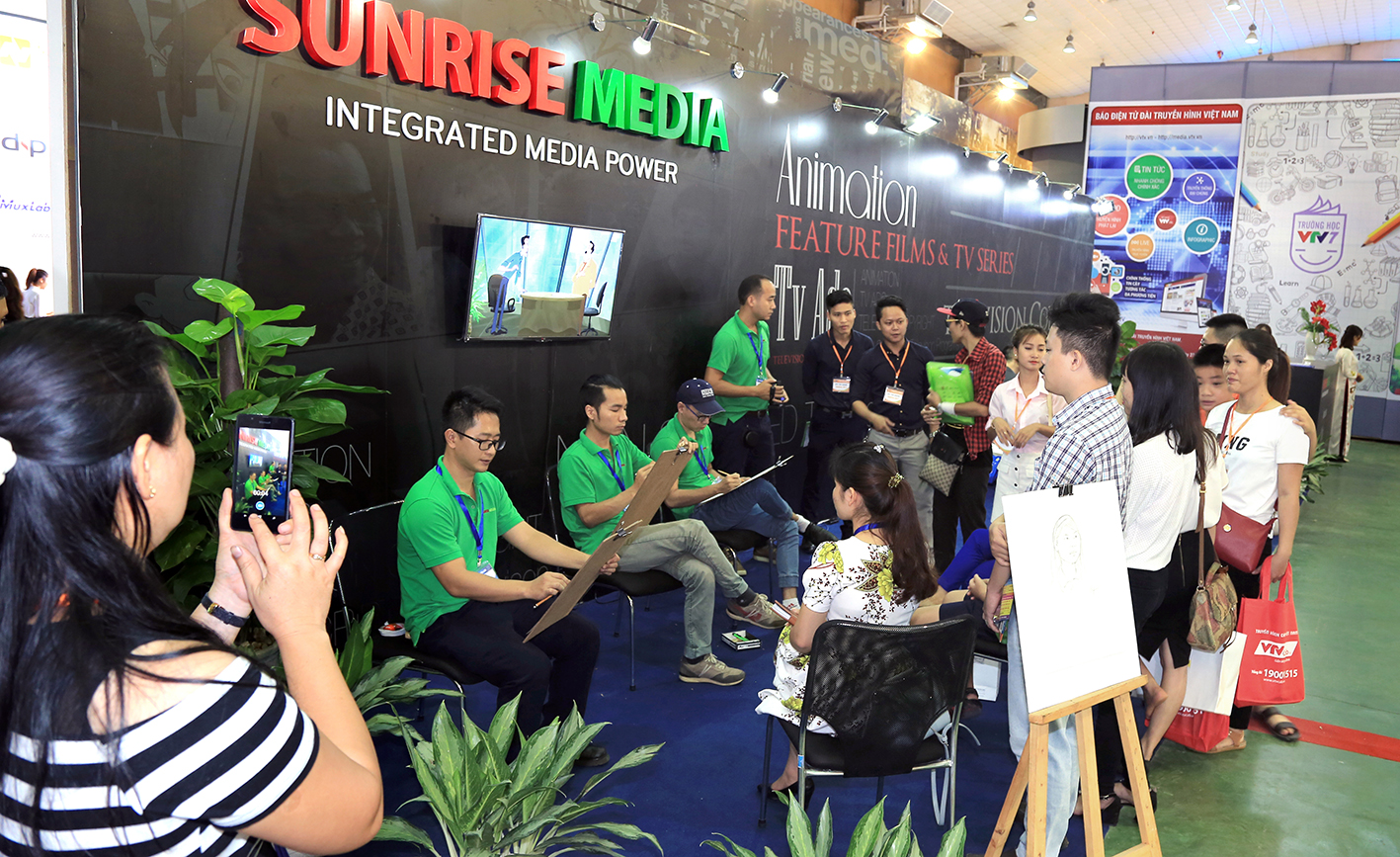 The fourth Vietnam International Exhibition on Film and Television Technology – Telefilm 2016 – was opened on July, 13th with larger space and better content. This was also the fourth time Sunrise Media brought its best 2D and 3D animated television series, gameshows, telefilms and movies to the exhibition.
There were up to 350 booths of 200 broadcasters and companies from 15 countries and territories in the world, including some developed film and television industries such as the United States, Germany, Japan, Korea, Singapore, Hong Kong and Taiwan.
The Organizing Committee performed ribbon-cutting ceremony in the opening of the exhibition
Sunrise Media's booth at Telefilm 2016
Besides Vietnam Television – the host of Telefilm 2016, many famous film and television producers such as Cattiensa, BHD, Sunrise Media and Multimedia in Vietnam also gathered to the exhibition. In addition, Telefilm 2016 attracted many companies providing technical tools and devices for televion program production in Vietnam. Through the interactive activities for the audience, the visitors had an opportunity to see and experience the modern and interesting television technology.
Located in the center of the exhibition, Sunrise Media's booth attracted a large number of visitors to the best animated television series and sketches from animated artists.
A large number of visitors came to the booth and received sketches of animated artists – special gifts of Sunrise Media to the audience
At Telefilm 2016, Sunrise Media also had meetings and discussions with potential partners in order to present more interesting programs for the audience.
The meeting between the Board of Directors and foreign partners
The booth of Sunrise Media was always opening to visitors and partners during the exhibition to cooperate and exchange film and television copyrights and services. Meanwhile, visitors had an opportunity to find out more about Sunrise Media – one of the leading animated producers in Vietnam.
Through many interesting activities, Telefilm 2016 was a promise of chance for discussing and finding customers as well as partners for companies, both domestic and foreign ones.